Maryland's Poet Laureate at The Library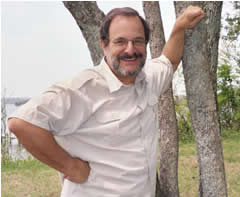 On February 24, and 25, 2006 The Friends of the Talbot County Library will be hosting a series of Maryland Humanities Council-sponsored sessions led by Maryland's Poet Laureate, Dr. Michael S. Glaser. The Language Arts Supervisors of each of the County's four school systems have been invited to participate in this program and to encourage interested students to attend.
The following four sessions are free and will be held in the meeting room of the Library at 100 West Dover Street in Easton.
From 12:45 until 1:45 on Friday, February 24th, Dr. Glaser will address students from Talbot County schools. His topic will relate to "Poetry's Uses and Roles in Our Lives." Dr. Glaser requests that those students attending this session have teacher/school/parental/guardian permission to attend. The students should also have some exposure to his poetry prior to attending the gathering. Dr. Glaser will provide appropriate materials to the schools before to the event. Students are required to provide their own transportation to and from the Library.
Friday afternoon's second session, which runs from 3:15 until 4:45, is geared toward the language arts teachers from the County's schools. It's being planned as an "interactive reception" for the teachers where they will be able to meet and talk to Dr. Glaser following his presentation. His talk will address the "value of poetry in the school setting and ways to integrate poetry into the classroom and curriculum" or Dr. Glaser may instead conduct a "hands-on workshop in which the teachers write poems themselves."
The evening session will be held from 7:00 until 8:30, and is open to the general public. This program will be titled "Poet's Corner: A Conversation with Maryland's Poet Laureate."
Dr. Glaser will also conduct a session on Saturday morning from 10:00 until 11:30 that will be tailored for senior citizens and well as the general public.
For further information about these programs, contact Frankie Bauer at the Library by email (fbauer@talb.lib.md.us) or by telephone (410) 822-1629.
On Saturday afternoon, February 25th, Dr. Glaser will give a presentation at the Tidewater Inn in conjunction with The Bay To Ocean Writers Conference. His talk will be titled, "Your Life as Poem: Writing Our Shaping Moments. . . .with Michael S. Glaser". He describes this presentation as follows:
"Write what you know" is one of the eternal verities of the creative writer. By focusing on those moments in our lives that have shaped how we have become who we are, we can honor the truth of this idea as well as discover more fully how and why it is that truth, as Keats has told us, really is beautiful.

Through hands-on exercises and focus on the writer's use of images and details, we will each examine what our 'shaping moments' are and how we might use them to help us write some of the poems within us that have always wanted to get out."
For additional information about The Bay To Ocean Writers Conference, check the listing on this website.
More information about Dr. Michael S. Glaser can be found on http://www.smcm.edu/poet/ and also at http://www.alsopreview.com/thepoets2.htm.
Visit http://www.mdhc.org/programs/poetscorner.htm for information about the Maryland Humanities Council and its Speakers Bureau.