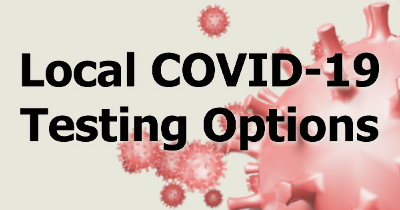 Local COVID-19 Testing Options
Both branches of the Talbot County Free Library receive Rapid At Home Test Kits periodically from the Health Department to distribute free of charge, one kit per person. However, the kits are resupplied as rarely as every two weeks or longer and are in high demand. If you have a current need for testing, and there are no kits currently available at the library, you may call one of the sites listed below that offer COVID-19 testing locally.
Talbot County Health Department's COVID-19 Testing Site
410-819-5632
Talbot Business Center, 28712 Glebe Road, Easton, MD 21601
Maryland Department of Health at UM Shore Medical Pavillion
490-500 Cadmus Lane, Easton, Maryland 21601

UM Urgent Care, Easton
443-746-0086
28522-C Marlboro Ave, Easton, MD 21601
Your Doc's In, Easton
877-222-4934
8163 Ocean Gateway, Easton, MD 21601
COVID-19 Testing In Maryland - Statewide Search for Testing Locations
covidtests.gov - up to 4 free at-home tests per household.