Passes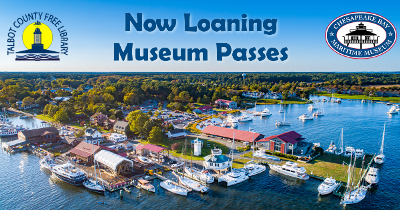 Passes
In partnership with local museums and other institutions, Talbot County Free Library is pleased to begin loaning admissions passes to our library cardholders free of charge,.
Due to the limited supply of passes, the checkout period is limited to 2 days. Please plan to return the passes to the Circulation Desk at the same branch from which you borrowed them, within that time. These passes are available on a first come, first served basis at the Circulation Desks of our Easton and St. Michaels Branches. Passes cannot be renewed and are not holdable.
Since the features and details of admission passes vary from one partner institution to another, please see below for the specific passes you are interested in borrowing.
Chesapeake Bay Maritime Museum
Each pass offers admission to the Chesapeake Bay Maritime Museum for up to 4 adults and their children or grandchildren under the age of 18. There are two passes circulating at each branch. For museum hours, directions, and other details, please see the Chesapeake Bay Maritime Museum's website.