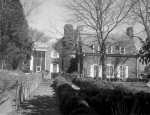 The Pusey Collection
The Pusey Collection consists of photographs taken from 1956 to 1965 by W. Nelson Pusey, a long time resident of Talbot County and associated with the Star-Democrat, which donated more than one thousand (1000) negatives to the library's Maryland Room.
Approximately three-hundred-fifty (350) negatives, comprised mostly of Talbot County estates, were scanned for this website.
Browse by Title:
A B C D E F G H I K L M O P R S T W
Or
Browse by Category
Public Buildings and Businesses
Copyright Terms
Images and textual descriptions featured in this collection are provided for reference use only. Copyright of images is, in many cases, still in effect, and unauthorized reproduction of images may constitute copyright infringement. Commercial use or publication (including distribution of images via the Internet) is prohibited without the written permission of the Talbot County Free Library Local History and Genealogy Collection. Researchers may request photographic reproductions of these images by contacting the Maryland Room Curator at the address below.
Talbot County Free Library
Attention: Maryland Room Librarian
100 W. Dover Street
Easton, MD 21601

E-mail: Maryland Room Librarian