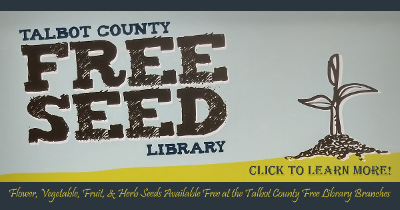 Talbot County Free SEED Library
Who are we?
Talbot County Free SEED Library is a collaboration with the Talbot County Free Library, University of Maryland Extension and Talbot County Master Gardeners. Together, they provide FREE seeds to our visitors that will allow everyone to build their own garden. We offer everything from vegetables to fruits, and pollinator-attracting flowers. The good news is that you can find a wide variety of seeds in both our Easton and St. Michaels location.
Watch a short video that 47 ABC produced on our Seed Library
What Do We Offer?
Flowers based on alphabetical order
Herbs based on alphabetical order
Fruits based on alphabetical order
Trees/Shrubs
Beans
Vegetables: Arugula, beets, broccoli, burnet, cabbage, carrots, cauliflower, corn, eggplant, fennel, gourds, kale, kohlrabi, leeks, lettuce, melons, mustard, onions, peppers, pumpkin, radish, rutabaga, spinach, sprouts, tomatillo, wheat grass, and more!
What Do I have to do to get access to the Seed Library?
It's Simple!
All you have to do is write the name of the variety and seed you wish to take using a blank envelope. We highly recommend that you either write down or take a photo of planting instructions on your phone to have the steps on hand to create a blooming plant!
Put your seeds on every envelope. Take 2 seeds for every plant you want to grow. Once you are done figuring out how many seeds you need, put the original seed back in the drawer.
Fill out the type of seed(s) you took, the amount of seeds you took, and date on the signout sheet.
If you want to donate seeds that you did not use, place seeds into the donations container provided. If you did not have an original envelope, you will need to write the common name, the scientific name, year the seed was collected, planting instructions: seed depth, spacing, light requirements, etc., perennial or annual, and other helpful notes (attracts pollinators, self-seeds, flower color, etc.)
*Any seed over one year old will be discarded
What are some upcoming events that will enhance my green thumb?
"Ask a Master Gardener": Thursday, April 21 & Thursday May 19, 5-7 p.m., Talbot County Free Library Main Branch.
Planting for Pollinators: Friday, May 20 at 10 a.m., at Talbot County Free Library Meeting Room-Easton Branch. Join Master Coordinator, Mikaela Boley to learn about plants that attract & support pollinators. Includes family-friendly activities (all ages welcome). Free & Open to the public, Registration is required: go.umd.edu/pollinators.